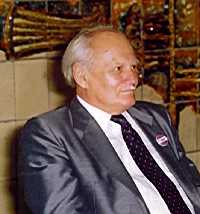 Árpád Göncz
Our first democratic Parliament elected in 1990 elected Árpád Göncz to the President of the Republic of Hungary. As a member of this same Parliament I found my politician-ideal in this politician and man.
I disagreed with that the people should not elect the president directly but he would be proposed as candidate as a result of a parliamentary deal. I found it still better if the society chose wrongly itself then being told who the right person was for us. But I think in this case the wrong system elected an outstanding statesman. Of course it caused a hubbub within a few months. Prime minister József Antal got "disappointed" in the honorable writer pretty fast, who I think was expected to perfectly suit the imagined protocol role.
But it did not happen that way. The writer was an outstanding man first of all, whose everyday life set an example for the new "politician" team.
It meant very much to me that he was helping my work as a friend for years. I could not ask anything from him what he would not do for me even leaving his advisors' antipathy out of consideration. Although his nearest colleague was trying to remove me from Mr. President's retinue for years, but unsuccessfully. It met with success only after the state administration found associates like the most read Hungarian daily paper, the Népszabadság, to its (proved for now) unlawful discrediting campaign.
Perhaps he is the only politician who I am sorry to be able to meet only "accidentally".
János Palotás